Cool Pak Receives Driscoll's 2017 Clamshell Supplier of the Year Awards
Bunzl Agriculture Company Wins for Packaging, Supply Chain Performance in California, Mexico Regions
Cool Pak recently received two 2017 Clamshell Supplier of the Year Awards from Driscoll's, the global market leader for fresh strawberries, blueberries, raspberries and blackberries.
Driscoll's recognized Cool Pak at its biennial Procurement Conference for providing exceptional berry packaging and supply chain services in Driscoll's California and Mexico regions. Driscoll's Supply Chain Team gave Cool Pak the highest marks in an award evaluation process that included all the regions' clamshell vendors.
"Cool Pak is one of Driscoll's most outstanding suppliers for many reasons," said Driscoll's Senior Manager, Product Supply – Procurement Lauren Simlukak. "Not only does the Cool Pak team provide Driscoll's with great product, outstanding customer service and flexible, on-time deliveries, but more importantly, they make it their priority to understand our business. This gives them the insight they need to accurately forecast and provide the right amount of packaging at harvest."
According to Bunzl North America Division President, Processor, Agriculture and Safety Dan DeAmbrosio, Cool Pak deploys a coordinated and comprehensive strategy to serve Driscoll's throughout North and South America. Cool Pak has operations throughout major agricultural regions to supply Driscoll's and other well-known produce growers with recyclable Polyethylene Terephthalate (PET) packaging.
"Our team members are honored and proud to receive this special recognition from Driscoll's," said DeAmbrosio. "It reflects Bunzl's many years of commitment and dedication to a valued, long-term partner, and we genuinely appreciate the acknowledgement."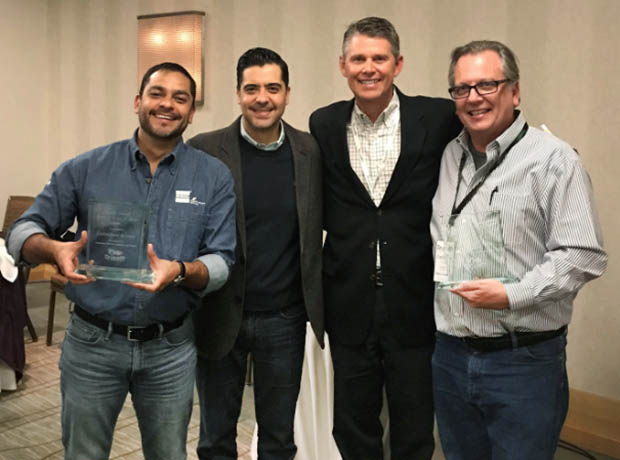 Cool Pak Accepts Driscoll's 2017 Clamshell Vendor of the Year Awards for California and Mexico (from left to right): Cool Pak Mexico Supply Chain Manager Leonard Ochoa, Cool Pak Mexico General Manager Victor Garcia, Bunzl North America Vice President, National Accounts and New Business Development John Murphy and Cool Pak Account Manager for Driscoll's Anthony Toohey
https://bunzl-ag.com/wp-content/uploads/driscoll-awards-sm.jpg
400
495
cpsuperuser
https://www.bunzl-ag.com/wp-content/uploads/2017/01/bunzl-ag-logo.jpg
cpsuperuser
2018-02-06 11:14:48
2022-07-25 08:51:30
Cool Pak Receives Driscoll's 2017 Clamshell Supplier of the Year Awards